Deep Water Culture System
Deep Water Culture systems are one of the most popular hydroponic systems, and one of the easiest hydroponic systems. DWC systems get their name from how plants' roots grow submerged beneath the water line.
If you're looking for a great system to start learning about hydroponics, give DWC a try!
In essence, plants sit suspended above the reservoir, while the roots hang directly into the nutrient solution. Roots almost always sit in net pots. Growing media also goes in the net pots. The roots constantly remain in the water, without the need for draining or cycling.
However, because deep water culture systems keep roots submerged in the nutrient solution, they also require extra aeration. In other systems, the roots get some air exposure, which provides oxygen the roots need to stay healthy. Without properly oxygenated water, plants can actually 'drown.' DWC systems use an air stone connected by tubing to an air pump to add the necessary aeration.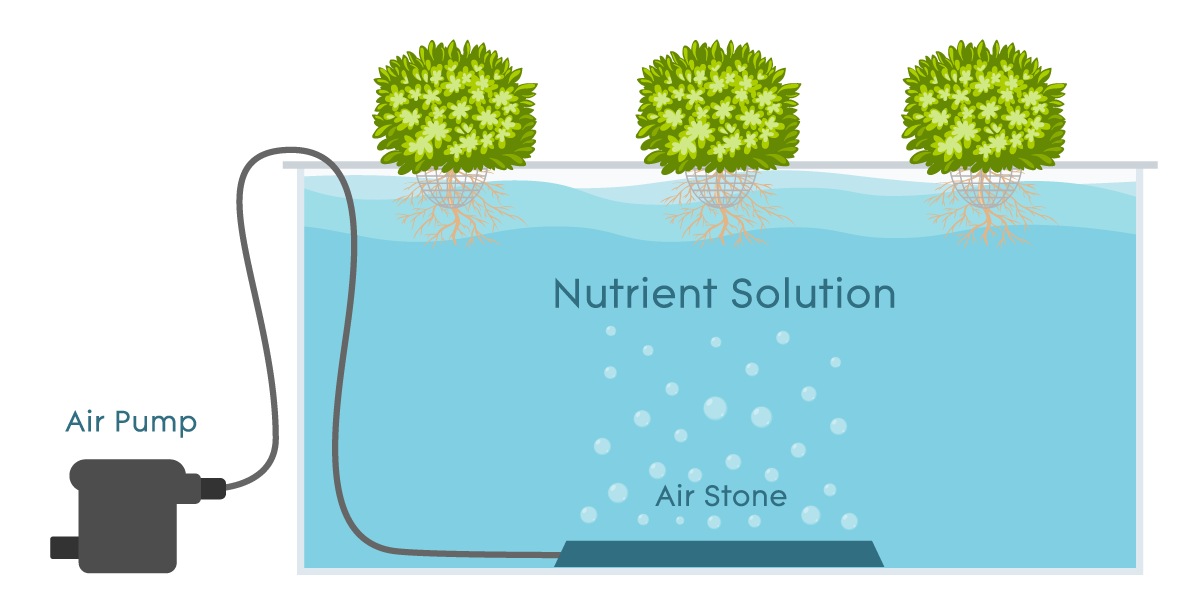 Benefits of DWC Systems
Benefits of deep water culture include increased stability (with pH and nutrient concentration), which in turn, decreases the overall maintenance. There's very little assembly when making a DWC system, and virtually no mechanical parts aside from the pump. If you're looking into making your own hydroponic system, it doesn't get much easier than this. 
Interested in making your own hydroponic setup? This guide shows the basic equipment you need.
Potential Issues With DWC
If the tank is too small, DWC systems can have some issues. Adding too much nutrient solution is common, because even a small amount of nutrients can make a large difference. Furthermore, small DWC systems can have pH and EC levels that fluctuate more as a result. The larger the water reservoir, the less problems you're likely to have.