Nutrient Film Technique (NFT)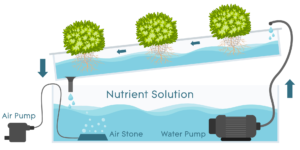 Nutrient Film Technique systems, or NFT systems, have plants held on a slightly sloped tray, with nutrient solution pumped to the highest end of the slanted tray. NFT trays often have channels, which allow nutrient solution to be directed at plant roots. A submersible pump is placed in the reservoir, located directly beneath the tray. As water trickles down through the tray, plants absorb the nutrients; any remaining nutrient solution empties back into the reservoir through a drain tube at the lowest end of the tray. 
Benefits of Nutrient Film Technique systems include scalability, which makes it a favored system among commercial operations, and a fairly easy setup. NFT systems are suitable for a wide variety of plants, but are especially good for leafy greens and other plants that have smaller root systems.