Wired Temperature Sensor
Model: AF-1W-TP-1
The Wired Temperature sensor is a very flexible and accurate temperature sensor operating from -55°C~+125°C ± 0.5°C  /  -67°F~257°F ± 1°F
Description
The AgrowSense Wired Temperature Sensor Product Family:
Models:
AG-S1-TP12: AgrowSense One Wire Temperature probe 12 inches

AG-S1-TP24: AgrowSense One Wire Temperature probe 24 inches

AG-S1-HTP12: AgrowSense One Wire High Temperature probe 12 inches

AG-S1-HTP24: AgrowSense One Wire High Temperature probe 24 inches
---
The AgrowSense Wired Temperature Sensors are one of the most reliable, affordable, and user-friendly sensor offerings for monitoring temperature. The AGrowTronics AgrowGateway Series 1 Gateway product family connects to two AgrowSense wired sensors, although 128 AgrowSense wired sensors can be connected through interlinking the AgrowGateway Series 1 Gateway (AG-BW-GW-1). Each AGrowTronics Wired Bus AgrowGateway Series 1 Gateway supports the connection of 8 additional wired AgrowSense sensors.Use the AgrowSense wired sensors to monitor any kind of environment, accurately and precisely.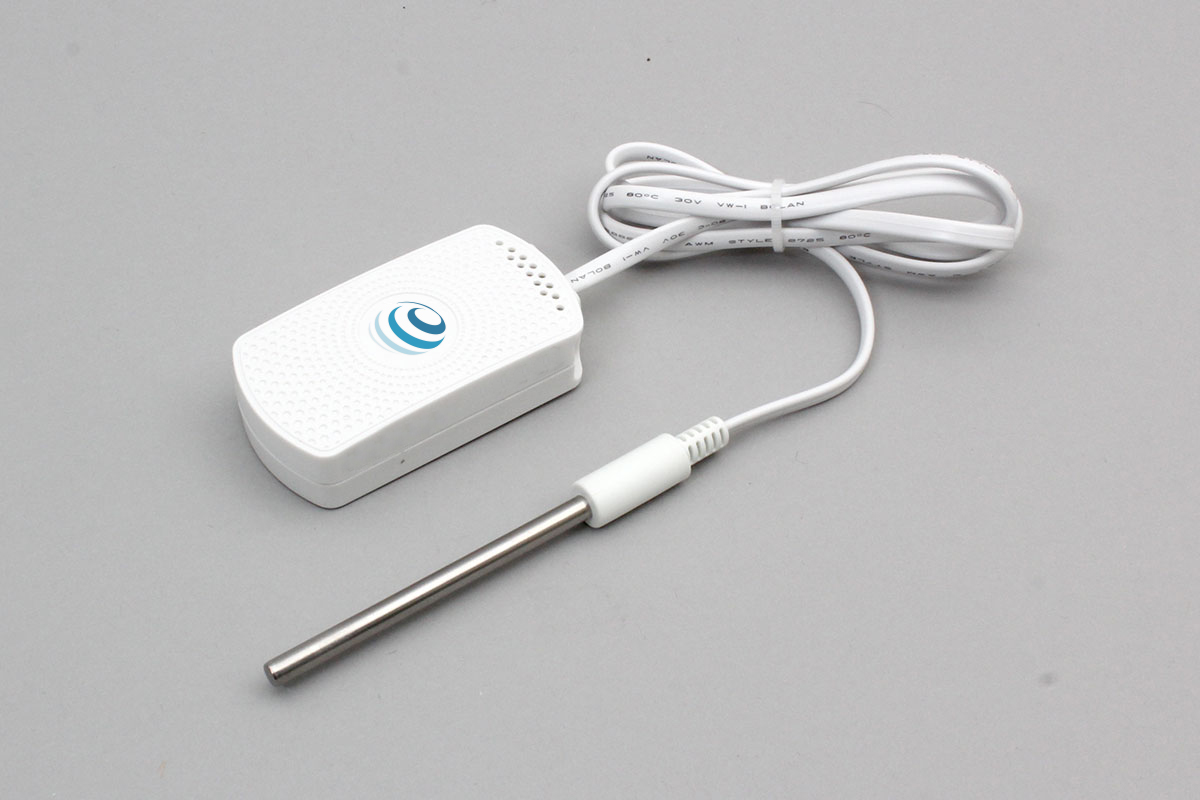 Suitable for all environments wet and dry, the AgrowSense wired sensors go where radio waves can't. It's designed for accurate recording in even the most extreme temperatures: -55°C~+125°C ± 0.5°C/-67°F~257°F ± 1°F
Submersible and waterproof up to 30 meters (100 feet)
The AgrowSense wired sensors includes a two meter (6 foot) connecting cable constructed with a stainless steel enclosure to prevent oxidation and damage in extreme environments
The AgrowSense Wired temperature sensors can be used to monitor:
Greenhouse Temperature

Nutrient Tank Temperature

Fish Aquarium Tanks

Fishponds

Reptile Habitats & Enclosures
These temperature sensors provide the ultimate solution for monitoring and recording temperatures in any environment. Incredibly easy, accurate, and durable, they're suitable for home hobbyists and commercial operations alike. 
Why choose the AGrowTronics wired sensors?
Instant, accurate temperature readings

Connect multiple gateways for up to 128 sensors

Monitor even the most hostile environments

Perfect when wireless monitoring isn't an option

Affordable, professional grade monitoring

Read temperature in wet and dry conditions

Stainless steel enclosure prevents rust and damage

Safely record extreme temperatures

Waterproof withstanding 100 feet of pressure
Join AgrowTronics and grow intelligently!
Device Specifications
| Description | Specification |
| --- | --- |
| Temperature Range | -55°C~+125°C/-67°F~257°F |
| Accuracy | ± 0.5°C/± 1°F |
| Maximum Depth (Pressure) | 30 Meters/100 Feet |
| Cable Length | 2 Meters/6 Feet |
Note: All Specification subject to change, please consult for latest specifications or additional details.